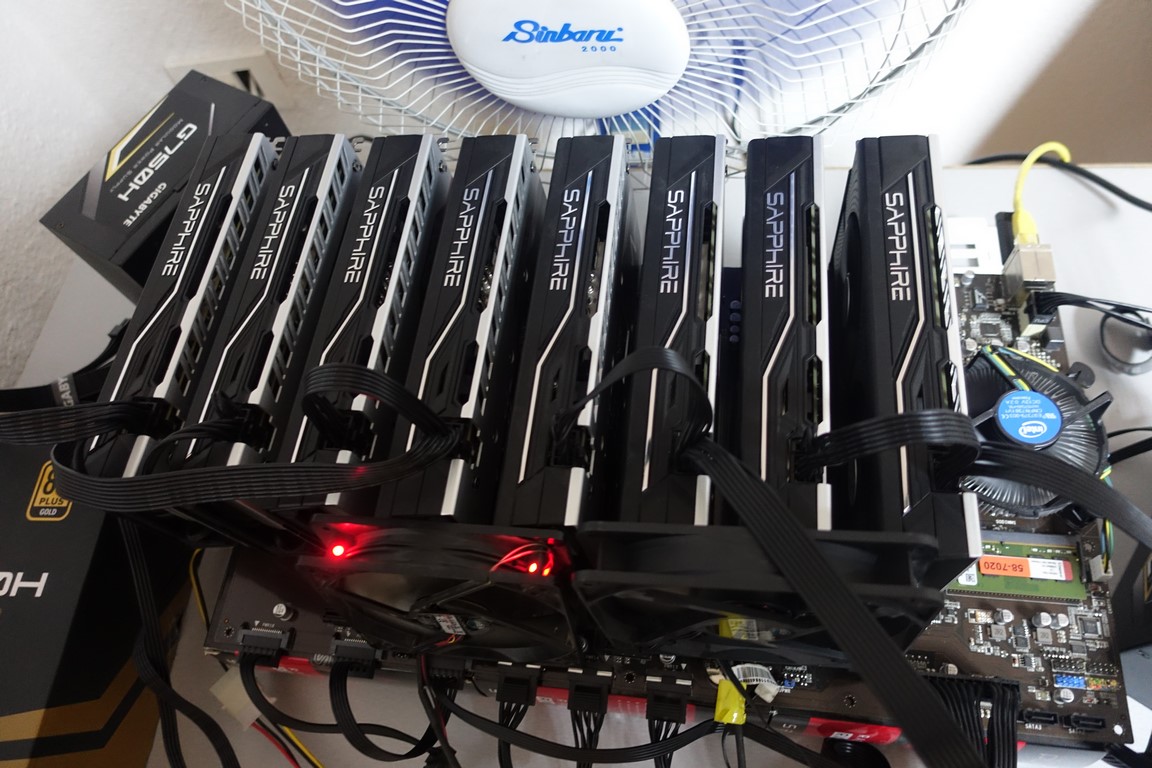 I've recently ordered two ONDA B250 D8P-D4 motherboards from China for my new mining rig. The most awesome feature on these boards is they are riserless! Yeah, you can add 8 GPUs to them without using risers and there are 4 additional PCI-E x1 slots for 4 additional GPUs using risers. And if that's not enough, the Onda B250 has a Mini PCI-E slot which lets you add additional 13th GPU by using a Mini PCI-E Riser.
My goal was to connect 8 x Sapphire Pulse RX580 8GB AMD Graphic cards to this board and make them riserless. However, whenever I added a card in the first slot the hashrate would drop to 4MH/s despite the graphic cards being BIOS modded and properly overclocked to hold 31.7 Mh/s. It was tested on a windows 10 machine and a linux HiveOS computer before, held 31.7 Mhs wihout any issues. I tried changing the slot, and it worked 31.7 MH/s again. So I knew it has something to do with the motherboard, but wasn't sure what. Added the cards to the second Onda B250 D8P-D4 motherboard, same thing happens. By the way when I added more than one card, strange things started happening. All the cards were randomly shifting between their max hashrate 31.7 and then dropping to some low values like 2 MH/s. So the AMD card added to that first slot was causing a real mess. I happened to have an nVidia card at hand, and added it to the first slot, only to find out that it works flawlessly with other cards as well. So finally it seems to be a combination with AMD cards and B250 chipsets on the first slot. I googled the issue, and users were calling it a 4Mhs bug. Those who resolved it, reported that it had to do something with attaching/deattaching a monitor to the first card. I tried connecting and disconnecting a monitor to the HDMI slot of the active card, with no avail. I even tried disconnecting it and restarting Claymore, still no go. It was time to check the BIOS and there was the solution.
So to fix this weird issue you need to follow this guide:
Restart the computer with the Onda B250 D8P-D4
Continuously hit Del during boot time to enter BIOS
With the keyboard arrows navigate to "Chipset" in the top menu
Choose "System Agent (SA) Configuration"
Then "PEG Port Configuration"
And change "Max Link Speed" to Gen2
Hit ESC a few times and navigate to "Save & Exit"
Select "Save Changes and Exit" and Select "Yes"
This should resolve the low hashrate (MH/s) issue with AMD cards on the Onda B250 motherboard. As far as I recall this same issue is present with other B250 chipset motherboards, so this should solve it for those as well.
If you have any further issues or questions, please don't hesitate to drop in a comment or provide feedback.